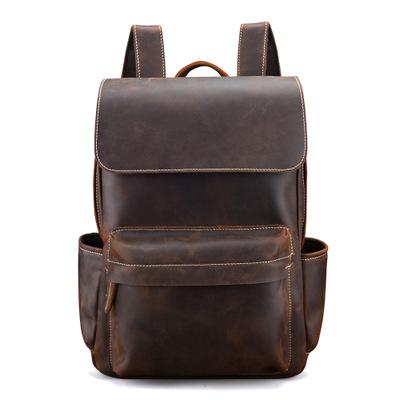 The Helka Backpack | Genuine Vintage Leather Backpack
Excellent quality and service!
I cannot say enough good about this company! I accidentally ordered the wrong backpack online. I immediately emailed the company and asked them to switch my order. Within a few minutes I had a reply and the change was made. My order was delivered in 4 days with free shipping! The quality of my backpack is excellent. And the smell of the leather is absolutely wonderful! I will definitely be ordering from this company again! A+
Happy with my Bag
Customer service is incredible. fast and efficient.
The quality of my bag is very good, stitches look like handmade and leather is one of those that will probably last forever. Totally worth it.
Helka Backpack | Genuine Vintage Leather Backpack
This backpack is more than I expected. It is pretty and perfect. Quality leather bag and meets the need I was hoping it would. So glad I purchased it and it was worth every single penny spent.
I'm glad I found a quality bag at this price
These leather bags are sold in my country at very expensive prices
I'm glad I found a quality bag at this price
Mastery in the industry makes the bag look like it is handmade
When the courier arrived it looked somewhat heavy to me
But when I carried her on my back I did not feel her weight
The quality of materials seems to be fairly high for this price point
Just got this bag, so initial impressions only. The quality of materials seems to be fairly high for this price point. The leather, stitching, and strap attachments seem to be rugged enough for heavy use and neglect. Im hard on my stuff more by nature than intent, so will be testing the previous statement soon :) The conversion from backpack to shoulder-slung/carry is straightforward, but not something that you would be able to accomplish in ten seconds. I like that the unused straps stow away out of snaggable range. The only thing that I dont care for in this process is the opened zippers for the in-use straps. Its not a big deal, and I dont know how to easily work around that design, but its an open pocket.
Inside the bag is laid out reasonably well. My biggest complaint in here is the velcro retaining straps on some of the nooks and crannies. If this bag lasts as well as it looks like it will, the velcro will be un-velcrod well before the rest of the bag is wore out. I would have liked to see some sort of magnetic claspy thing or perhaps snaps or buttons, but thats a minor quibble. The only real complaint regarding the main compartment is that it doesnt open as wide as Id like. Between the less-flexible-than-cloth leather and a zipper that doesnt go more than two-thirds around the compartment, Ive got to kinda pull the bag open to peer inside. This will no doubt improve as the bag begins to see more use.
Overall, this bag is, if anything, more than Id hoped for when purchasing it at this point. If something changes will update.
Returns Policy
We accept returns within 30 days. If 30 days have gone by since your purchase, unfortunately, we can't offer you a refund. To be eligible for a return, your item must be unused and in the same condition that you received it. It must also be in the original packaging. To complete your return, we require a receipt or proof of purchase. Certain sale items may not qualify for returns unless they arrive damaged.
Before you return the item, please contact us at info@steelhorseleather.com.
Shipping
Our backpacks and bags are made to order. We ship most items within 2-4 business days. Once we ship your item we will send you an email. As we ship internationally, shipping times may vary from country to country. Average shipping times are as follows:
1. U.S. - 3-12 business days
2. Canada - 14-20 business days
3. Wordwide - 14-30 business days
Please note that due to unexpected delays, sometimes shipping times can be longer. Please allow up to 20 days for the bags to arrive. If you have any questions, feel free to contact us at info@steelhorseleather.com
Also, feel free to take a look at our FAQ page