Leather Corporate Gifts
Why offer an ordinary gift when you can give an extraordinary one? Exceptional people give exceptional gifts - let Steel Horse Leather help you find the PERFECT corporate gift. Steel Horse Leather provides a beautiful selection of outstanding full grain leather goods - all available to be personally monogrammed or embossed with your company logo.
You have to admit looking for the perfect gift is hard. Here at Steel Horse Leather, we offer a great selection of outstanding leather corporate gifts. Give your team a gift that they will actually use and love! Gone are the days of boring company swag!
Give a unique gift that will be treasured for years to come! Share the spirit of adventure with your crew, business partner, and your clients. Customize your purchase with a distinctive monogram or logo for that extra-special touch. Keep your company's name and logo fresh in your client's mind with debossed or laser-etched personalization. All Steel Horse Leather bags, backpacks, briefcases, and accessoriesare handcrafted from 100% authentic, beautiful full grain crazy horse leather. We are here to help give the perfect personalized gift
.
Why Choose Steel Horse Leather for your Corporate Leather Gifts?
Give a quality unique gift to your team. Your team will feel appreciated by receiving a corporate gift that is handmade with full-grain leather . It is not every day that you receive something as high-end as leather. Moreover, leather corporate gifts will last for a long time. It's something your team will want to use day in and day out. Every product is made to perfection. We work with only the best leather artisans that treat our bags with as much care as you want to show your team.
Furthermore, here at Steel Horse Leather, we offer leather corporate gifts that are special and leave a lasting impression. We make every gift worth receiving by adding a personal touch to it. In fact, adding custom logos and monograms are available on all products. Whether it's for a client or for your team, our leather products are sure to leave a good impression of your brand.
Moreover, we are happy to help you with customizing your selection. You may contact us at SteelHorseLeatherCo@gmail.com or fill out the corporate order form below. Likewise, our expert customer service experts will contact you. They will assist you with any of your leather corporate gift-giving needs. If you are looking for inspiration, we are happy to help craft new corporate gift ideas for you to create the perfect promotional gift or accessory.
FEATURED PRODUCTS
Our products are rugged and sturdy, built with a spirit of adventure. We have a wide selection of full grain leather bags, backpacks, messenger bags, travel accessories, and other items all inspired by the time-honored traditions of the past, and all perfect for corporate gifting. Below are just a few of our favorites available for customization
Corporate Logo Personalization
Make every gift special by going the extra mile. Personalize your leather corporate gifts with custom logo lasering. You may also add have your company logo beautifully debossed into the leather gifts and leather surface.
LASERED CORPORATE GIFTS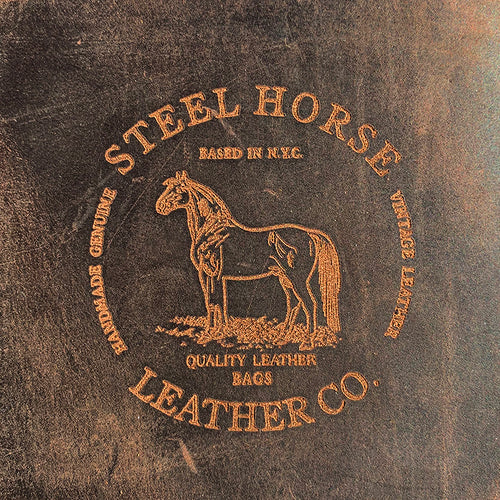 Laser Engraving
Laser engraving is the process of printing a design on the surface with the use of a laser. This method creates a permanent, precise, and flawless burn to the leather with your design. Consequently, this creates a perfect image of your logo. It also has a clean and beautiful finish look on the leather.
DEBOSSED CORPORATE GIFTS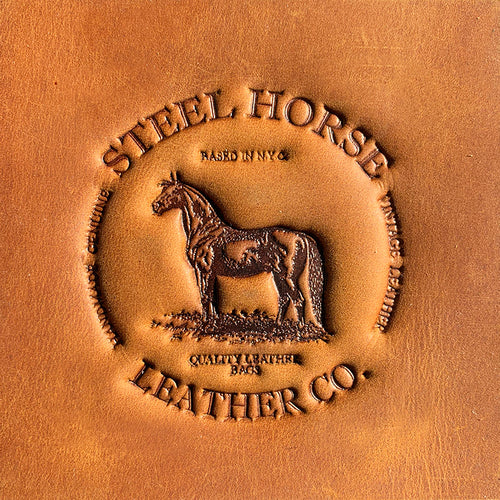 Debossed Logo Personalization
Debossing is the act of stamping a design on the surface of an object so that it is indented. Here at Steel Horse Leather, we use a heat debossing technique with a custom dye or stamp to permanently imprint your custom logo into our leather. This method creates a beautiful, dimensional depth to your logo, imprinting it on the leather surface. Debossing is available on qualifying orders. To find out if your order qualifies for the embossing process, please contact us at SteelHorseLeatherCo@gmail.com or fill out the corporate order form below.
Our Simple Process
How Does it Work? Allow us to help you with your corporate gift giving needs. Here at Steel Horse Leather, we guide you
through our easy step-by-step process of customizing your corporate leather gift. Let our customer service expert guide
you in creating the best gift for your company. We will be with you every step of the way.
1. CHOOSE YOUR PRODUCT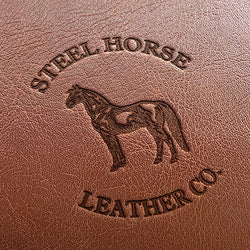 2. EMAIL US YOUR LOGO AND GET
A MOCKUP BACK FROM US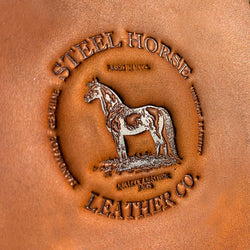 3. RECEIVE YOUR CUSTOMIZED
HAND CRAFTED PRODUCT
Corporate Leather Gifts Contact Form
Let our customers speak for us
Futher Leather Corporate Gifts Articles