Custom Leather Bags
Custom Leather Bags
We recognize the importance of leather bags, leather backpacks, messenger bags, bespoke leather handbags, and many various sorts of leather bags that have a utilitarian value as well as offering aspects of style, from women's leather bags to men's leather bags. Our design of your own leather bags platform allows you to collaborate with us from the beginning to create a style and functionality that meets all of your demands and sensitivities. We guarantee that your customized leather bags will reflect your individuality and sense of style. This is a fantastic opportunity to take your custom leather bags to the next level.
We provide a large choice of personalized leather bags, ranging from fabric kinds and patterns to details, colors, and whatever shape or size you may be interested in. Just as custom leather bags have an infinite design capacity while being able to match your personality and lifestyle, the same can be achieved with any bespoke outerwear or gear, so why restrict yourself to leather bags? As a result, we recommend that you simply make one request and leave the rest to us.
Why Have a Custom Leather Bag?
Creative Experience
Creating your own custom leather bags is inherently a creative endeavor. We'll assist you in working through the idea and concept phases to develop something uniquely yours. We can create whatever you can imagine. Of course, we'll provide guidance on best practices, engineering, and other elements that may influence the bag's performance. And if you need assistance with design concepts, we're delighted to offer suggestions. But the idea is yours, and we'll make it a reality. That has a deep fulfilling quality about it.
Unique Possibilities
With a project like this, there is no limit to how inventive you may be. Would you want to utilize a different color of leather? That is something we can accomplish. Are you looking for different hardware? Do you have a family heritage cloth that you'd want to utilize as a lining? That is something we can accomplish. You know you need four pockets on the outside, but you're not sure how to make them. We can assist you with this. We'll even construct a one-of-a-kind metal die to heat imprint the pattern of your choice into the leather. This might be a family crest, a monogram, or any other design you like.

Custom Client Project
Choosing Steel Horse Leather for your Custom Leather Bags
Give a world-class gift to your loved ones. Your friends and family will feel valued and appreciated by receiving a premium leather item that is handmade for you with the finest materials in the world. It is not every day that you receive something as stunning as leather. In addition to being a company that is known for its leather goods, we have developed a reputation for the high standards of craftsmanship and attention to detail that we put into each product. Our bags are made of only the best materials and crafted using only the best techniques.
Furthermore, Steel Horse Leather makes leather gifts of the highest quality. All of our leather gifts are handmade and created just for you. We make all of our custom
leather bags
one-of-a-kind by adding a personal touch to them. In fact, we have a whole selection of leather options for you. You can personalize your leather goods by adding custom logos or initials to make them uniquely yours. You can also choose from different elegant monogramming options.
Our products are reasonably priced and we're glad to assist you with pricing questions or special requests. You may contact us at SteelHorseLeatherCo@gmail.com or fill out the custom order form below. Likewise, our friendly customer service representatives will get back to you as soon as they can. If you have any leather-related gift-giving needs, our personalized gifts experts are here to assist you. They will help you to create unique and customized genuine leather gifts for your friends and family that are perfect for any occasion.
Story, Longevity, Satisfaction
Going through our personalized experience will result in something truly unique, a narrative you'll tell for years to come. It will be a talking point, maybe a family heirloom, and something you will treasure for a long time. It's really fulfilling to see a concept come to life and see the actual benefits of that labor. You're truly producing a piece of art. Customers have purchased our bags with plenty of satisfaction, and you may be tempted to do the same.
Custom Orders
In a world of mass production, we need individuality and custom design. Working with leather enables you to do so in practically every aspect of your life. If you want a hand-made bag that no other colleague will have in the workplace, or if you want to secure your gadgets with a rough style, I believe we can assist.
Steel Horse Leatherworks extremely hard to create a unique product to your exact specifications and desires. So we may exchange a few emails and phone conversations to ensure that we have your desired pattern, and then we dive into your order with zeal and attention to detail. Please keep in mind that we only make unique items from our leather collection and do not deal with other skins.
Custom Leather Bag Ideas
Our goods are long-lasting, strong, and protected. We provide a wide selection of purses, backpacks, wallets, accessories, and other items for a variety of on-the-go needs. We also offer several alternatives for serving those special young ones in your life. Below are some of our most popular bespoke designs. Our full-grain leather items are made to last a lifetime. They're crafted with the highest-quality materials to endure the environment while still providing outstanding functionality.
Custom Logo Personalization
Custom leather bags make great gifts. Custom laser engraving of your logo is an easy and effective way to make a gift special and distinctive. You can also have your logo debossed into the leather, giving a truly unique finish.
LASERED CUSTOM GIFTS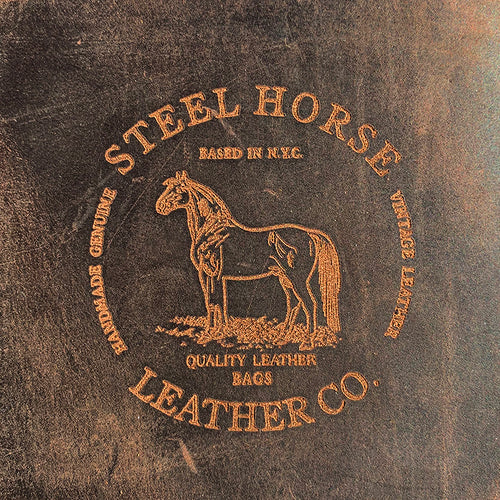 Laser engraving is the process of making a mark on a material, such as leather, with the use of a laser. Using this method, the burnt design will be clean and perfectly positioned on the leather. In addition to having a clean and beautiful look, it will also have a permanent, uniform, and precise image that will not wear off over time.
DEBOSSED CUSTOM GIFTS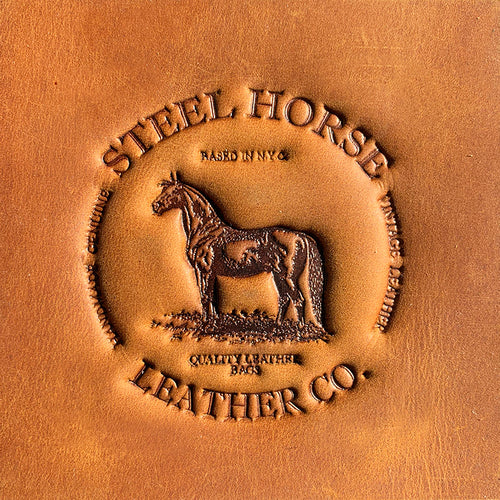 Debossing is the process of stamping a design, lettering, or logo so that the image appears to be engraved into the surface of an object. At Steel Horse Leather, we use a heat debossing technique that imprints your company logo onto our custom leather products. This method creates a beautiful, dimensional depth to your logo, imprinting it on the leather surface. Debossing is available on qualifying orders. To find out if your order qualifies for the embossing process, please contact us at SteelHorseLeatherCo@gmail.com or fill out the custom order form below.
OUR SIMPLE PROCESS
If you want bespoke work, the procedure is extremely simple: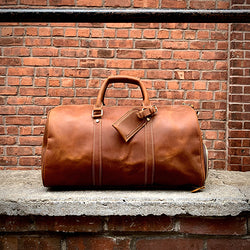 1. Fill out the info form below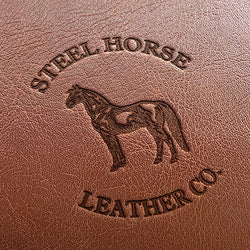 2. We will work with you on the design and mockups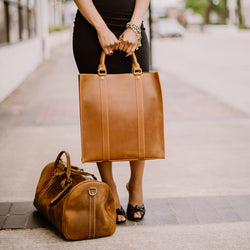 3. Receive your customized handcrafted product
Custom Leather Bag FAQ's
.
Let our customers speak for us
Custom Leather Bag Contact form
Looking For The Best Leather Bags
There are a lot of options if you look at our list of custom leather bags. There are more variables to consider when choosing a leather duffel bag, but it's easier than picking a technical travel bag. It's more important than ever when you consider the cost and longevity of leather items. This guide on
how to pick the right duffel bag
will hopefully help you in your search. There is a lot to consider, from the fabric and design to your budget and what you will be using it for.
The MANN Bag | Large Capacity Leather Camera Backpack - Custom Client Project
Featured Products
Our goods are long-lasting, strong, and protected. We provide a wide selection of purses,
backpacks
, wallets, accessories, and other items for a variety of on-the-go needs. We also offer several alternatives for serving those special young ones in your life. Below are some of our most popular bespoke designs. Our
full-grain leather
items are made to last a lifetime. They're crafted with the highest-quality materials to endure the environment while still providing outstanding functionality.
Leather Bags for Customization at Steel Horse Leather Co.
Handmade Leather Duffel Bags
These handmade Duffel leather bags look elegant and are always remarkable. The attention to detail and quality from stitching to choice of leather always produces a timeless beautiful leather duffle bag. Our handcrafted Duffel Leather Bags are sturdy and resilient, perfect to transport your important products securely. All our bags are equipped with inside and outside handbags, meticulously designed for your daily clothing and other essentials.
The Dagny Weekender will always be dependable for any short trip. Allowing for items to be placed comfortably, compact, and safe. This high-quality design is there to exaggerate functionality and productivity, with a compartment designed specifically for shoes. Other interior pockets are included which will allow for storage of laptops as well as other accessories. It's completed with a comfortable leather handle that will allow for easy transportation, and also comes with the option of a removable shoulder strap. The Dagny Weekender is the ultimate all-rounder bag.
The Endre Weekender is smooth, stylish, and sturdy - a perfect option for school, work, and everything in between. Premium quality leather means that it's durable and resistant for day-to-day wear and tear, and comes with two holding options: the leather handle or shoulder strap, which is adjustable and removable. This leather duffel bag features an adequate amount of pockets that ensure that all personal items are stored neatly and safely. The black leather provides a classic look that will accentuate over time while maintaining its quality, and functionality.
Vintage Leather Backpacks
Looking for a vintage backpack of leather? Steel Horse Leather, which combines the natural beauty of crafted leather with the roughness of its old leather style, offers the finest vintage leather backpacks. This makes your leather backpack beautiful and timeless. Our bags make a formal or informal complement and are excellent companions on weekends or lengthy trips. Our old-fashioned custom leather bags can hold laptops and other gadgets and other goods secured by our handmade leather covers and metal buckles as well. Our vintage leather bags are fully stored.
Genuine cowhide leather with natural creases and lines throughout gives the impression of a true antique. The Hagan Backpack has style and quality, as you'll find its leather soft to the touch but durable enough for daily wear and tear. It's highly versatile in usability, lightweight, and capacious enough to carry tablets, laptops, books, gadgets, and other items with ease. Featuring a large main compartment, two zipped exterior pockets, and a single easy-access front pocket.
Looking for a backpack that combines a rugged aesthetic with effortless style? Look no further than The Asmund. Providing a certain bohemian allure, this bag appears to have done it all and is ready to do it all again; able to compliment any outfit on a casual day out or for a long adventure. It has a large capacity, suitable for storing laptops and other gadgets, along with other day-to-day items, all secured safely with drawstring closure and buckled leather flap. The crazy horse leather has a smooth texture, delicate to the touch, but extremely durable and weather resistant. The shoulder straps are designed for easy adjustments to your comfort, all included straps are genuine leather, as well as the exterior pockets attached to the main compartment - allowing for further storage and efficient accessibility. Getting out there has never been made easier.
Handmade Leather Backpacks
These bags and backpacks have handcrafted leather which is pleasant to the touch yet highly sturdy. All the stitches are real leather and the outside pockets on the main portion fit comfortably with the shoulder braces. The individually handcrafted backpacks are constructed with high-quality, handmade, vintage leather to satisfy your everyday demands. Elegance and comfort mix functionality and durability.
You can take it to work
, school, or travel al fresco. Note, because this bag is created from a natural material, each bag is uniquely colorful and a great choice for custom leather bags.
The Vali Backpack is the answer to a sophisticated and efficient high-quality leather backpack, fit for all your daily needs. This backpack provides the complete service for school or work, with the main compartment specifically designed for storing books, papers, laptops, and gadgets, and a convenient easily accessible exterior pocket. The sleek, minimal aesthetics of this design make it ideal for men and women with a style to complement any outfit. The leather is all-natural, creating an ever-changing and unique look that is enhanced with the wear and tear of daily life. The backpack has strategically designed straps that distribute the weight evenly across the back and the high-quality leather ensures the straps are long-lasting and comfortable on the shoulders.
The Shelby Backpack is a sophisticated fusion of style and utility. This wonderful backpack provides incredible options for carrying your essentials, including a main compartment with a padded laptop case and YKK zipper, and a selection of exterior pockets all with a soft polyester lining. It is perfect for all kinds of travel, whether you're hiking, camping, or on the daily commute. The bag is designed to stay vertical while on the user's back and the whole weight of the pack is distributed evenly making it extremely comfortable to wear. The material is crazy horse leather, which is durable, long-lasting, and lightweight.
Vintage Leather Messenger Bags for Men
With their stylish design of roomy inside compartments, the vintage leather messenger bags for men are made for easy and safe transportation of articles are an awesome choice for the right top corporate gifts for customers. The handcrafted leather messenger bags are suitable for all your needs. The great storage capacity of our Leather Messenger Bags is easy to transfer between the shoulders and the briefcase.
These are robust, high-quality grain leather bags that can transport books and computers up to 15 inches, and any other thing insecure condition. The handcrafted Vintage Men's Leather Messenger Bags are constructed of a high-quality, sturdy, dependable product with an evolving natural color.
The Welch letter box is stylish and functional. A great mix of shoulder bag and case, which gives the wearer comfort and storage capabilities. This bag is robust, manufactured from high-quality leather, and can carry precious devices, computers of up to 14" and any other goods safely. Not only is the short case very useful, but it also looks sophisticated, the senior men of the State of the leather sacks, which seem like it belongs to any setting.
The Viggo Briefcase is meant to conveniently transport goods in a corporate atmosphere while complementing your professional style. This leather laptop bag is an ultimate all-rounder which allows objects to be carried effortlessly and safely with its elegant inner layout. The case is constructed of wild, high-quality horse leather, which ensures a reliable, durable product and a natural color. Laptops up to 14 centimeters are securely attached, and there is enough room to support all your work requirements.