Custom Leather Gifts
Custom Leather Gifts
Why give an ordinary gift? Custom leather goods are highly personalized gifts that are crafted just for you. Every item is hand-selected and designed to be the perfect gift for you or a loved one. It's easy to find the perfect gift at
Steel Horse Leather
— with a wide variety of options for custom monograms, let us help you find the perfect leather gift idea!
You have to admit it's hard to give the perfect gift. That's why we offer a great selection of outstanding custom leather products. Our products are unique and can be customized to fit your budget. From backpacks to briefcases, custom leather wallets, including bags too — there is something for every budget.  This is also a perfect solution for unique and interesting corporate leather gifts!
Give a unique gift that will be treasured for years to come! Give the gift of adventure with this iconic and timeless design. Monogrammed or customized with your logo, it will let everyone know that you mean business and are ready to go. Make your logo or name stand out by debossing or laser-etching it into genuine, natural
full-grain leather
. Personalize your favorite leather bag, personalized wallet, tote, leather luggage tag, leather dopp kit, leather coaster, or any gift with an embossed design. All Steel Horse Leather bags and accessories are handcrafted from authentic, beautiful leather. We are here to help you find the perfect custom leather gifts.
Why choose Steel Horse Leather for your Custom Leather Gifts?
Give a world-class gift to your loved ones. Your friends and family will feel valued and appreciated by receiving a premium leather item that is handmade for you with the finest materials in the world. It is not every day that you receive something as stunning as leather. In addition to being a company that is known for its leather goods, we have developed a reputation for the high standards of craftsmanship and attention to detail that we put into each product. Our bags are made of only the best materials and crafted using only the best techniques.
Furthermore, Steel Horse Leather makes leather gifts of the highest quality. All of our leather gifts are handmade and created just for you. We make all of our custom leather gifts one-of-a-kind by adding a personal touch to them. In fact, we have a whole selection of leather options for you. You can personalize your leather goods by adding custom logos or initials to make them uniquely yours. You can also choose from different elegant monogramming options.
Our products are reasonably priced and we're glad to assist you with pricing questions or special requests. You may contact us at
SteelHorseLeatherCo@gmail.com or fill out the custom order form below. Likewise, our friendly customer service representatives will get back to you as soon as they can. If you have any leather-related gift-giving needs, our personalized gifts experts are here to assist you. They will help you to create unique and customized genuine leather gifts for your friends and family that are perfect for any occasion.
Custom Leather Bag Ideas
Our goods are long-lasting, strong, and protected. We provide a wide selection of purses, backpacks, wallets, accessories, and other items for a variety of on-the-go needs. We also offer several alternatives for serving those special young ones in your life. Below are some of our most popular bespoke designs. Our full-grain leather items are made to last a lifetime. They're crafted with the highest-quality materials to endure the environment while still providing outstanding functionality.
Custom Logo Personalization

Personalized leather gifts make great gifts. Custom laser engraving of your logo is an easy and effective way to make a gift special and distinctive. You can also have your logo debossed into the leather, giving a truly unique finish.


LASERED CUSTOM GIFTS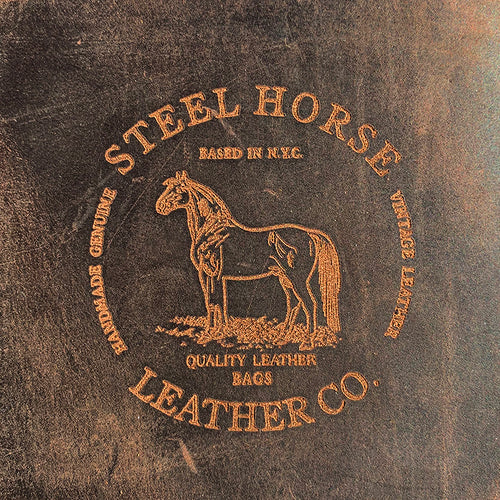 Laser Engraving



Laser engraving is the process of making a mark on a material, such as leather, with the use of a laser. Using this method, the burnt design will be clean and perfectly positioned on the leather. In addition to having a clean and beautiful look, it will also have a permanent, uniform, and precise image that will not wear off over time.


DEBOSSED CUSTOM GIFTS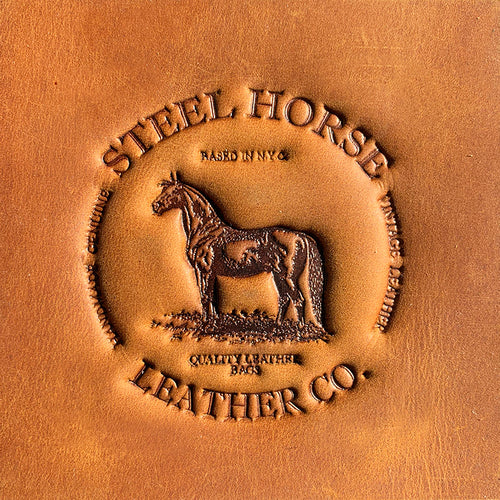 Debossed Logo Personalization


Debossing is the process of stamping a design, lettering, or logo so that the image appears to be engraved into the surface of an object. At Steel Horse Leather, we use a heat debossing technique that imprints your company logo onto our custom leather products. This method creates a beautiful, dimensional depth to your logo, imprinting it on the leather surface. Debossing is available on qualifying orders. To find out if your order qualifies for the embossing process, please contact us at SteelHorseLeatherCo@gmail.com or fill out the custom order form below.
OUR SIMPLE Custom Leather Gift Process
How do you feel about the company's gift-giving process? Is it easy to find the perfect custom leather gifts for a friend or family member or even corporate gifts? We know that choosing the perfect gift can be overwhelming. That's why we've made it easier. Our customer service team can help guide you through our easy one-step gift creation process with personalized, meaningful gifts for all occasions (birthdays, groomsman gifts at a wedding, Valentine's day, leather journals, everything!).
1. CHOOSE YOUR PRODUCT
OR CONSULT WITH US ON A CUSTOM DESIGN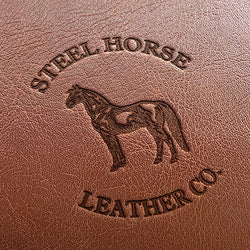 2. EMAIL US YOUR LOGO OR SKETCHES AND GET

A MOCKUP BACK FROM US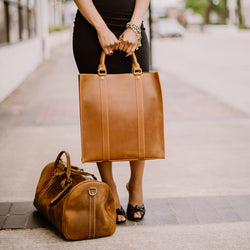 3. RECEIVE YOUR CUSTOMIZED

HAND CRAFTED PRODUCT
cUSTOM lEATHER gIFTS FAQ's
Common questions
Let our customers speak for us
Custom Leather Gift Contact form
Vintage Leather Backpacks -
Custom Leather Gifts
Looking for a vintage backpack of leather? Steel Horse Leather, which combines the natural beauty of crafted leather with the roughness of its old leather style, offers the finest vintage
leather backpacks
for the right custom leather gifts. This makes your leather backpack beautiful and timeless. Our bags make a formal or informal complement and are excellent companions on weekends or lengthy trips. Our old-fashioned leather bags can hold laptops and other gadgets and other goods secured by our handmade leather covers and metal buckles as well. Our vintage leather bags are fully stored.
Handmade Leather Backpacks
These bags and backpacks have handcrafted leather which is pleasant to the touch yet highly sturdy. All the stitches are real leather and the outside pockets on the main portion fit comfortably with the shoulder braces. The individually handcrafted backpacks are constructed with high-quality, handmade, vintage leather to satisfy your everyday demands. Elegance and comfort mix functionality and durability. You can go to school, work, or travel al fresco. Note, because this bag is created from a natural material, each bag is uniquely colorful and a great choice for the right custom leather gifts.
Handmade Leather Duffel Bags
These handmade Duffel leather bags look elegant and are always remarkable. The attention to detail and quality from stitching to choice of leather always produces a timeless beautiful leather duffle bag. Our handcrafted Duffel Leather Bags are sturdy and resilient, perfect to transport your important products securely. All our bags are equipped with inside and outside handbags, meticulously designed for your daily clothing and other essentials.
Vintage Leather Messenger Bags for Men
Men's Leather Messenger Bags
These are robust, high-quality grain leather bags that can transport books and computers up to 15 inches, and any other thing insecure condition. The handcrafted Vintage Men's Leather Messenger Bags are constructed of a high-quality, sturdy, dependable product with an evolving natural color.
Wrapping It Up!
Putting your best foot forward will always set you apart during job interviews and give you with the possibility to complete tasks. If you want to impress your loved ones, do the same. So, how can you best wow your lover, friends, and family? When it comes to elegance and utility, we recommend anything made of leather.
And no, we don't want to seem shallow and we're not materialistic, we just feel that some customs, especially when sharing is important, should never be forgotten. If you still consider the presents your loved ones will give on their birthday, you are correct, I mean, on the internet. You're here! For all your gifters, we have a few handy and lasting leather-made presents.
In conclusion, if you are looking for a unique way to express yourself through a gift, then consider giving any of the leather products recommended here as custom leather gifts. They make wonderful and thoughtful gifts for all special occasions including birthdays, anniversaries, Christmas, Mother's Day, Father's Day, boyfriend or spouse, graduation, weddings, graduations, etc... And remember, there are plenty of good options when sharing the perfect gift. So go ahead and get creative.